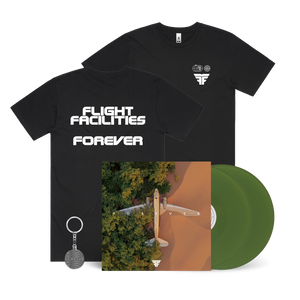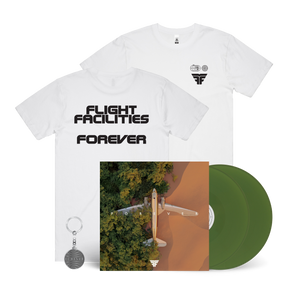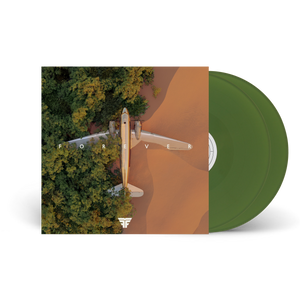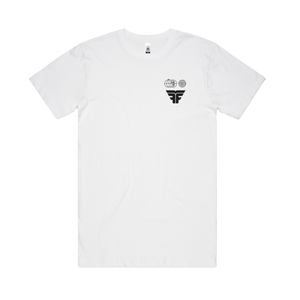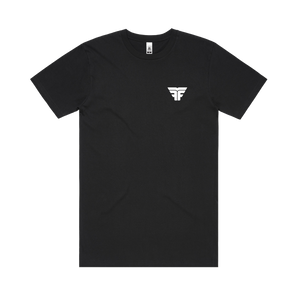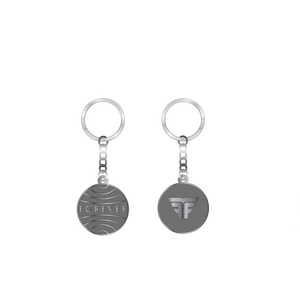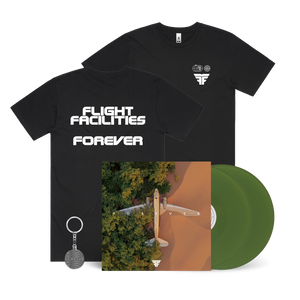 FOREVER / Business Class Bundle
Flight Facilities FOREVER Business Class Bundle


- FOREVER 2LP Gatefold 180 gram Vinyl. 2LP 180g green coloured vinyl with gatefold.

- Flight Facilities FOREVER Black or White T-Shirt. Screen printed on AS COLOUR 'Block' black t-shirt. Size Chart
- FOREVER Club Keyring.

Flight Facilities' sophomore full-length LP FOREVER features the titular single (in collaboration with BROODS), and includes vocal support across the record from Channel Tres, Your Smith, DRAMA, Emma Louise, Jordy Felix and BRUX.
Over five years in the making, Flight Facilities' musical journey has always been an intentional exploration of multiple genres. The duo applied that same explorative ethos to their second record, taking a concerted delve into the previously untouched niches and eras of dance. This deliberation stems from a strive to make the type of music that lasts as long as their creative process appears to take….'forever'.
Track Listing:

1. Lights Up (feat. Channel Tres)
2. What I Want (feat. BROODS)
3. Heavy (feat. Your Smith)
4. The Ghost
5. Altitude
6. Wait & See (feat. BRUX)
7. FOREVER (feat. BROODS)
8. Move (feat. DRAMA)
9. Pain (feat. Jordy Felix)
10. Stay (feat. Your Smith)
11. If Only (feat. Emma Louise)